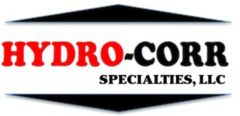 Hydro-Corr Specialties, LLC is a manufacturers representative company offering some of the most unique, high-performance solutions for Roofing, Waterproofing and Corrosion Control available today.
We do not offer any band-aid or cheap fixes, but knowing that the longest lasting systems are ultimately the lowest cost over the life of a structure, promote only time tested materials designed to appeal to the specifier that wants things done right the first time.
Applications for Industrial and Architectural facilities include:
Liquid-Applied roofing and waterproofing systems for the protection and restoration of the building envelope system.
Industrial, corrosion resistant coatings and linings for concrete, steel and secondary containments. Materials are available for facilities requiring NSF and USDA listings as well as for those protecting against the aggressive environments found in the Power, Manufacturing and Water Treatment industries.
Engineering materials for rehabilitating the structural integrity and functionality to infrastructure.
Time tested materials coupled with over 25 years of experience in the recommendation of high performance polymers and coatings for the protection of concrete and steel gives us the ability to solve a broad range problems facing today's facility owners with long-term solutions.